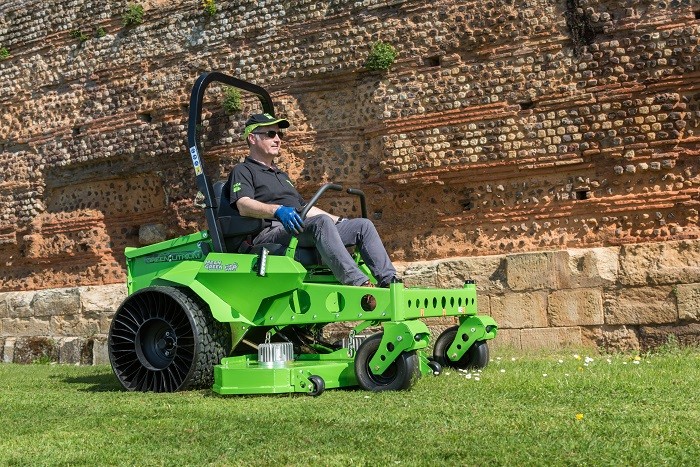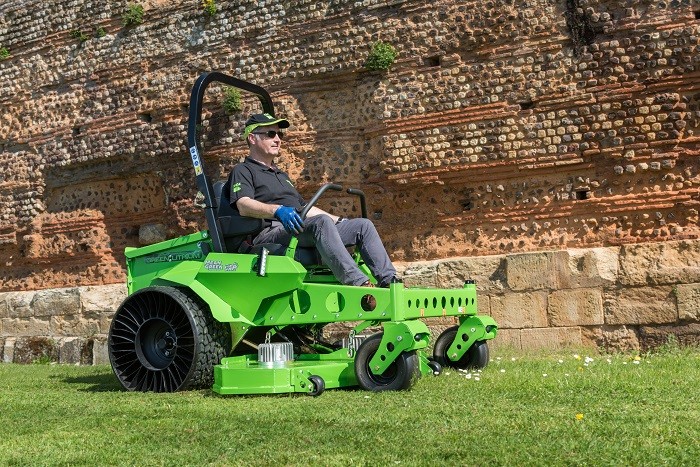 MAJORIS : plug-in electric battery powered ride-on mower
MAJORIS CXR : 'ZTR' mower with lithium-ion battery – 7 hours autonomy
Designed by aeronautical engineers, the MAJORIS with its aluminum body and cutting deck, is equipped with the best of MEAN GREEN technology dedicated to its ZTR (Zero Turn Radius) mowers. It succeeds in the challenge of offering strength and reduced weight (-40% compared to other ZTR of the market!). Results: less energy consumption, less soil compaction, less load to transport on trailer, less corrosion.
MAJORIS CXR : the first professional electric 'ZTR' mower for 7 hours autonomy!
Possible equipment: standard or photovoltaic solar canopy, Michelin XTweels, 2 mowing widths: 1330mm or 1520mm, options: LED light, orientable front blower.
| | | |
| --- | --- | --- |
| MODEL | MAJORIS CXR133 | MAJORIS CXR152 |
| Battery technology | Lithium-ion 48 V 140 Ah | Lithium-ion 48 V 140 Ah |
| Autonomy | Up to 7 ½ hours with 3 battery packs | Up to 7 ½ hours with 3 battery packs |
| KW power and CV equivalence | 9.4 kW / 36 CV | 9.4 kW / 36 CV |
| Charger and charging time | 220V 35A / 4 hours per battery pack | 220V 35A / 4 hours per battery pack |
| Mowing type | Side discharge or rear discharge + mulching kit | Side discharge or rear discharge + mulching kit |
| Mowing width | 1330 mm | 1520 mm |
| Mowing height | 25mm to 130mm (electric adjustment) | 25mm to 130mm (electric adjustment) |
| Forward speed | 0 to 16 km / hour | 0 to 16 km / hour |
| Weight | 429kg (2 battery packs) / 481kg (3 battery packs) | 443kg (2 battery packs) / 495kg (3 battery packs) |
| Dimension | 1880 x 1372 x 1753 (H with ROPS) mm | 1880 x 1550 x 1753 (H with ROPS) mm |
| Sound pressure | 93 dB | 93 dB |
| Options | LED ligh, front blower, solar canopy, classic canopy, Michelin XTweels | LED ligh, front blower, solar canopy, classic canopy, Michelin XTweels |
Autres produits dans la même catégorie