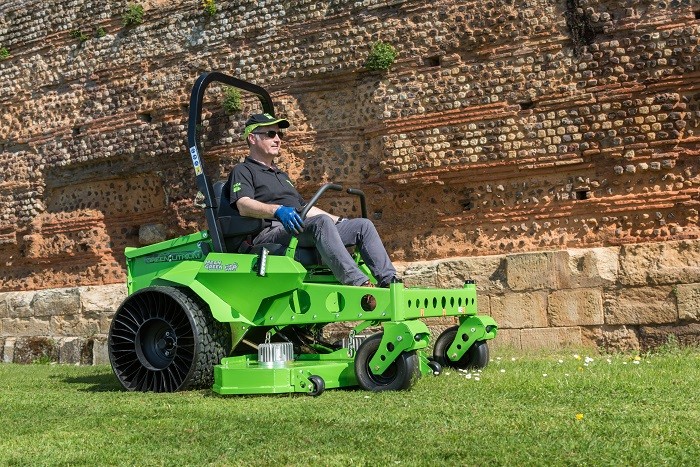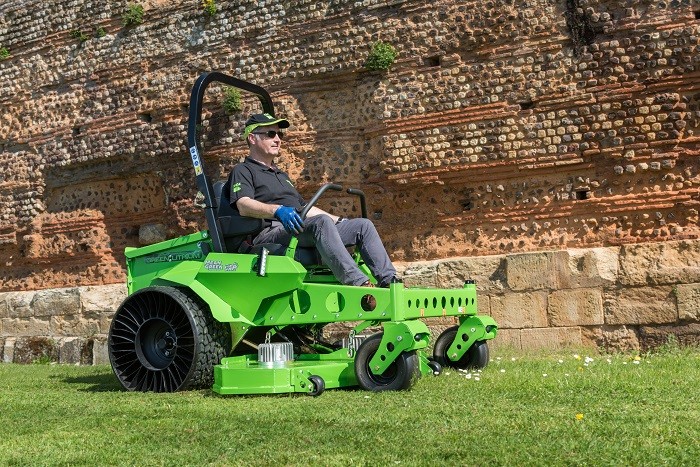 MAJORIS : plug-in electric battery powered ride-on mower
Designed by aeronautics engineer, with its aluminium alloy chassis and cutting deck, the MAJORIS offers both strenght and reduced weight (40%) if compared with other ZTR on the market. The result: less energy consumption, less soil compaction, less weight to transport on trailer, less corrosion.
MAJORIS CXR: 1st electric mowered ZTR to perform during 7 hours!
TOP 5 BENEFITS OF ELECTRIC MOWERS FOR COMMERCIAL MOWING COMPANIES
JULY 8, 2019
|IN GREEN MOWING, LOW MAINTENANCE, LOW NOISE, ZERO EMISSIONS, ZERO GAS
|BY MEAN GREEN
It's go time. When the summer lull hits for many businesses, your commercial mowing company is hitting its peak. You have to manage clients, employees, properties, schedules, costs, equipment – and your reputation. Making the switch to electric mowers can help you operate a lean, mean, green business. 
Electric Mowers: A 21st Century Solution
In the early days of electric mowers, models couldn't keep up with the demands of commercial mowing companies in terms of work hours and power. Thanks to advances in technology and a drive to create better products for businesses – and the environment – that is no longer the case.
In fact, electric mowers can benefit your business in a number of high-impact ways. You can:
Green Up Your Reputation
Integrating environmentally-friendly, sustainable equipment and practices into your business isn't just good for the planet – it's good for your bottom line:
87% of consumers have a more positive view of companies that support environmental issues.
● 88% are more loyal to those companies.
● 87% will buy a product (or service) with an environmental benefit if given the chance.
● 92% of consumers are more likely to trust a company that supports environmental issues.
Further, 74% prefer when businesses limit their use of pollutants or chemicals, and 67% like when they use renewable energy.
More consumers want work done by environmentally conscious companies. When you use electric mowers for commercial properties, it's a major selling point. You have the opportunity to market the fact that you "mow green" – and you can successfully win jobs that you might not otherwise.
Shush the Competition
A typical gas-powered mower operates at 100-100dB (decibels), and the louder the better. Noise is directly linked to a mower's cutting power. Mean Green electric mowers reduce this to a max of 87 to 93dB, without reducing cutting power. Remember that for every 6dB, noise doubles. So, an 87dB mower produces less than half the noise of an 93dB mower. Dropping from 110dB to 87dB is a significant win: not only do you protect your people's hearing, you significantly cut noise pollution.
This is another selling point. For commercial mowing clients like schools, hospitals, care centers, nursing homes, etc., having beautifully maintained grounds without disrupting students, staff, residents, and others is ideal. You can offer a much quieter service than your competitors – and a much better experience to your customers.
Reduce Your Carbon Footprint
Traditional mowers are incredibly inefficient; in fact, they only operate at about 20% efficiency. Imagine if your car did that! You'd trade it in immediately. Running a 24HP ZTR mower for just one hour produces as much emissions as 88 cars traveling at 90 km/hour.
Emissions of an industry-leading electric mower: zero. No emissions. (And yes, this is yet another selling point for your customers!) Mean Green mowers operate at about 90% efficiency.
Cut Your Operating Costs
How much time and money do you spend keeping your equipment running? Checking and changing the oil, replacing fuel and air filters, cleaning spark plugs, checking belts, monitoring the cooling system, watching for fuel leaks, rebuilding carbs/injectors, replacing belts… the maintenance list is long – and ongoing!
With a Mean Green commercial mower, you grease the two grease fittings on the front tires every 50-100 hours, keep the blades sharp, and charge the battery at the end of the day. That's it. You'll save huge time and mony over the life of your mower.
Get the Job Done
Let's cut to the chase: are electric mowers as effective as gas-powered mowers? We like to think of Mean Green mowers like the Nemesis, Majoris and Stalker as the gas-powered slayers. Finally, electric mowers that can handle large commercial mowing jobs.
Strong, durable, agile, powerful, Mean Green Mowers not only tackle commercial terrain, they enable you to market your business as a progressive, conscientious, and efficient leader. Mow right over the competition!
If you're interested in taking your commercial mowing business green, contact our team at MGE and the MGE MEANGREEN dealer network to request a demonstration!
| | | |
| --- | --- | --- |
| MODEL | MAJORIS CXR 133 | MAJORIS CXR 152 |
| Weigth with 2 batteries | 429 kg | 443 kg |
| Weight with 3 batteries | 481 kg | 495 kg |
| Cutting width |   | 1 520 mm |
| Cutting type, discharge | Side discharge or rear + mulching | Side discharge or rear + mulching |
| Height of cut | 25-127 mm | 25-127 mm |
| Ground speed | 0-16 km/h | 0-16 km/h |
| Battery autonomy | 7h / 7 1/2 hours | 7h / 7 1/2 hours |
| Charging time / Lithium-ion battery type | 12 h – 3 batteries / 48 V – 140 Ah | 12 h – 3 batteries / 48 V – 140 Ah |
| Power kW – equivalence HP / Charger | 9,4 kW – 36 HP / 220 V – 35 A | 9,4 kW – 36 HP / 220 V – 35 A |
Autres produits dans la même catégorie