The founding partners: Marc DENOUEIX & Gérard CROSNIER
MGE (MG ENTREPRISES) has been founded in 1986 by two business engineers, Marc DENOUEIX (the M of MGE) and Gérard CROSNIER (the G of MGE).
Son of an inventor from the French county of Sarthe, Marc DENOUEIX grew up in the world of technology and export with the limited means of small industries. Raised in a farming family from the nearby county of Loir-et-Cher, Gérard CROSNIER is up on agricultural machinery. The two founders are both inclined toward sports, attended the same schools, and were trained as engineers in international industrial marketing. They also followed a similar professional curriculum, working in big and smaller highly exporting companies.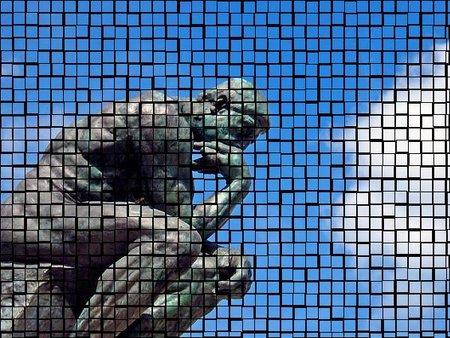 After they acquired a common experience in construction engineering in a small firm with 80% of sales abroad and created its export department, the team decided to found their own company to offer services as consulting and sales engineers to other firms. These missions would consist in short focused or long-standing missions for small innovative businesses and for larger ones facing difficulty in launching new products or in entering into new markets.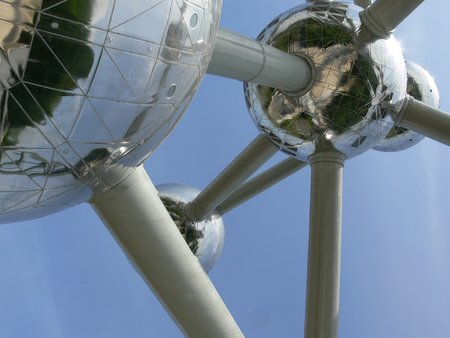 MG ENTREPRISES became in 1986 the pioneering company of the Pays de Loire region about helping newly exporting firms to enter French and foreign markets as well as older companies asking for a rapid insertion of their technical products into the market.
This activity – market research and sales management – consists either in long-standing missions ("turnkey" management with canvassing + selling + invoicing in the target country language) or in specific missions (action focused on one product or market in a short time).
Meeting Michel DAIRON and the DAIRON company
In 1987, Marc & Gérard met Michel DAIRON in the Club des Exportateurs de la Sarthe (Club of Exporters of the Sarthe county). Michel DAIRON was the head of the DAIRON company since 1980 as successor of his father, the 1958 founder Septime DAIRON. This was the encounter between a technical know-how and selling skills.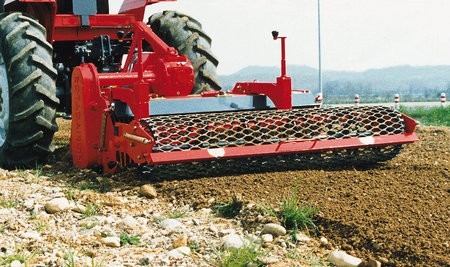 This encounter was a clincher for both companies: through the exporting program driven by MGE, the sales of DAIRON expanded significantly in France and in Europe (from 1988 to 1995) and turned then to worldwide export from 1995 till 2015, particularly in green areas and sports grounds equipments.
MGE implemented offensive strategies to conquer markets for DAIRON and its ROTADAIRON sidelines and – that is the MGE ethics – complementary and not rival products from other manufacturers, in the field of environment and green areas. This crossing between skills in manufacture, distribution, services and use of equipments has made MGE a French leading operator on this market, for the good of all, customers and suppliers.
On the 11th of July 2008, it was the 50th anniversary of the DAIRON company, in the presence of numerous clients and suppliers from all over the world. It was the occasion to show the way DAIRON had evolved and its high-qualitative products.
The "icing on the cake": as President of the Le Mans Sarthe Wright 2008 Centennial Committee, Marc DENOUEIX invited Buzz ALDRIN, one the two first humans to set foot on the moon, to lay the corner stone for the DAIRON factories extension building!
Meeting Jean PRAT & Raymond GABARD
In 1990, MGE met Jean PRAT, hydraulic engines specialist and founder of the HYDRO-PRAT company in 1965, and Raymond GABARD, French pioneer in turf laying since 1979. These two "masters" taught turf expertise (cultivation and laying on the host site) to MGE through projects that draw the company story from then on: stadiums (including the Stade de France in 1997 and the Lille Stadium Nord in 2011), golf courses throughout France and Europe (1991-2011), Disneyland resort in Paris (1990-1992) and several tramways (Paris, Le Mans, Angers, 2001-2011).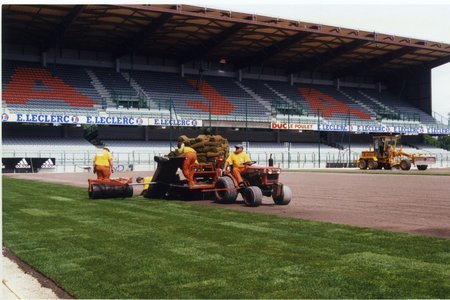 The inventiveness of Mr. GABARD and of Mr. PRAT gave to MGE the most innovative techniques of the market. The first turf laying machine (small rolls, 0m40 x 2m50) was invented and patented by Raymond GABARD (awarded at SIMA show in 1987) and manufactured by Jean PRAT. The first big slabs laying machine was patented and produced by HYDRO-PRAT in 1997 for the pitch of the Stade de France, in the view of the 1998 Football World Cup. Turf laying works for tram railways led also the firm to develop new laying and cutting devices.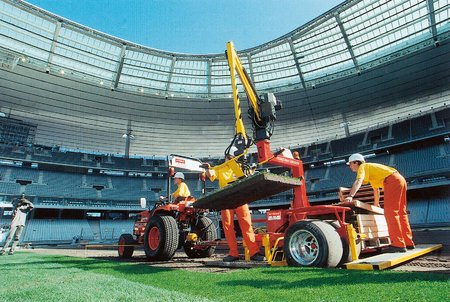 The demise of Raymond GABARD and the cessation of the production of pre-cultivated turf led MGE and HYDRO-PRAT to take over the turf laying activity by requesting various turf producers according to the considered projects and the required types of turf. The retirement of Jean PRAT led MGE to take over the whole HYDRO-PRAT SERVICES activities as well (turf supplying and laying on golf courses and stadiums).
MGE
DAIRON synergy for export
Michel DAIRON of DAIRON SA and Marc DENOUEIX & Gérard CROSNIER of MG ENTREPRISES have shareholding partnership in their respective business from 1997 until end 2013. In 2000, the EMREX company (distributing firm for ROTADAIRON in North America, founded in 1987 in Pennsylvania by Charles OTTO) was taken over by DAIRON SA and became ROTADAIRON EMREX, INC. It allowed faraway exportation and business throughout the world: America but also Asia – especially Japan – South Pacific, Eastern Europe, Africa…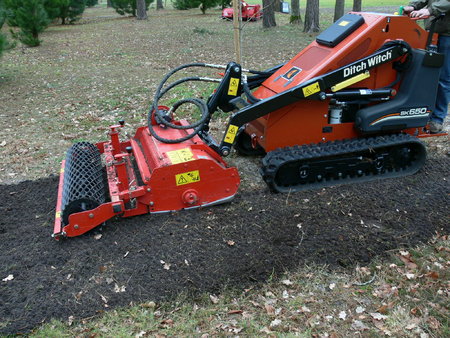 Along this development, MGE engaged in agreements and contract manufacturing with big international players of the market: THE TORO CO. (USA), DITCH-WITCH (USA), AGRIA WERKE GmbH (Germany), KUBOTA (Japan, Europe)…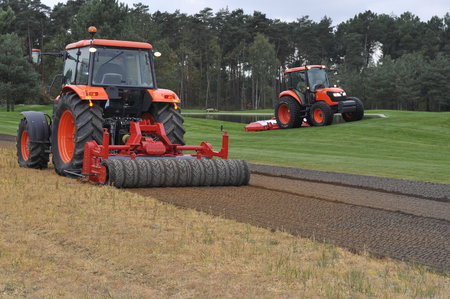 Launching
 trading division by MGE: GREEN SERVICE
In 2004, MGE started discussion with POLS INTERNATIONAL Group (NL), one of the leading green areas operator in the Netherlands. It quickly turned out that some collaboration could take place: on its side POLS would import ROTADAIRON series in the Netherlands, on the other MGE would distribute POLS maintenance equipments worldwide.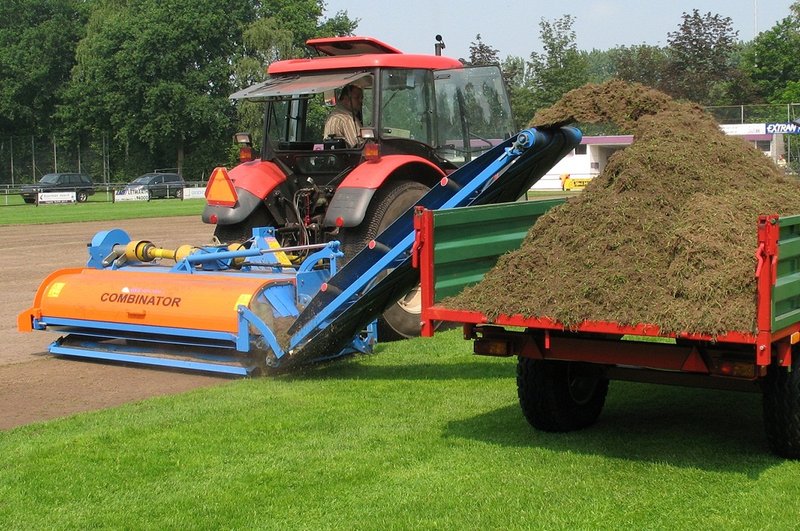 The GKB sideline was designed in collaboration with one of the five biggest Dutch landscape contractors and the main operator in the Rotterdam region, and this sideline was acutely matching the needs for sports grounds (football and rugby stadiums, golf courses). Three types of equipments were offered: the top field making machine Combinator, the aerator recycler grader Eco Dresser, and the trenching draining machine Drainmaster.
 As an example for the GKB innovative products: the Combinator is the only machine that fights poa annua grass and clears it at 98%!
After POLS INTERNATIONAL decision to stop its activity, MGE decided to work directly with the producer of the sideline: GKB.
GKB provides a wide range of professional equipment for natural grass and artificial turf sporting fields.
TRIMAX high-performance mowers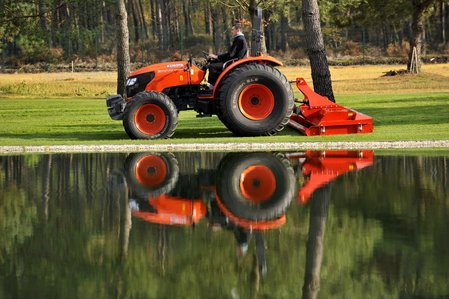 In 2006, MGE GREEN SERVICE added other products to its collection: the TRIMAX mowers line. TRIMAX Group is operating in New Zealand (birthplace of the parent firm in the 1970's), in the US and in Britain (subsidiaries). TRIMAX started mowers production in 1981. This choice by the MGE trading division (GREEN SERVICE) was driven by TRIMAX qualitative manufacturing, its "unique mowing" device and its high-performance products.
TRIMAX mowers are today distributed by MGE GREEN SERVICE throughout continental Europe: France and its overseas territories, Belgium, Luxembourg, Italy, Spain, Portugal…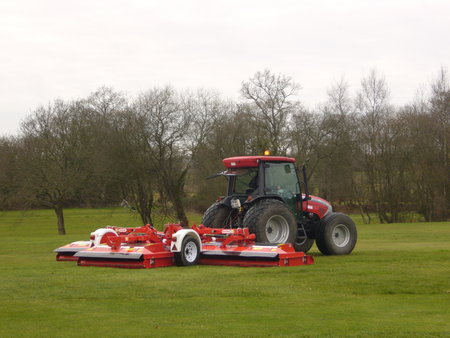 Importing TIMBERWOLF wood chippers 
and shredders
The TIMBERWOLF wood chippers and shredders sideline is manufactured by the British market leader (80% of the rental market, 60% of market shares in the UK), ENVIRONMENTAL MANUFACTURING LLP who began in 1984 and produced its first chippers in 1986.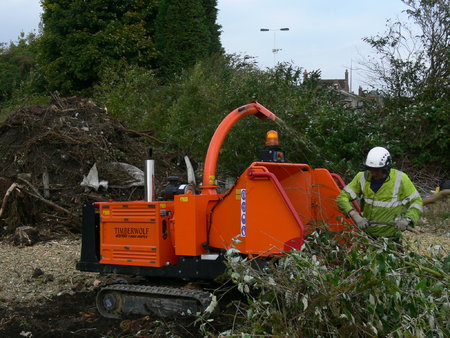 The first contacts between MGE and this British manufacturer were followed by a technical validation of the TIMBERWOLF equipments in France (2008) and by an exclusive import agreement with MGE GREEN SERVICE for France (2009). All TIMBERWOLF models on road towable chassis (manufactured as well by TIMBERWOLF) are homologated by European road administration. TIMBERWOLF chippers and shredders meet European standards and use only high-quality components: engines (HONDA petrol engine, KUBOTA diesel and turbo diesel engines), hydraulic motors (PARKER), braking system and axles (ALKO)…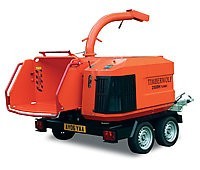 The TIMBERWOLF range, the most performing and complete of the European market, is manufactured in a very well organized ISO 9000 factory and consists of 22 models:
1 compact woodchipper (chipping Ø 75 mm): self driven 13hp petrol ;

2 woodshippers 3 point hitch for tractors (chipping Ø 100 to 160 mm) ;
1 shredder with hammers, 3 points hitch for tractors (shredding Ø 225 mm) ;
7 woodchippers on road towable chassis with weight under 750 kg (no special drive licence type E required): 18hp petrol (Ø 100 mm), 22hp petrol (Ø 125 mm, fixed or adjustable tow hitch), 27hp petrol (Ø 160 mm, fixed or adjustable tow hitch), 35hp diesel (fixed or adjustable tow hitch) ;
5 woodchippers on road toawable chassis with weight beyond 750 kg (E driver licence required): 53hp petrol (Ø 160 mm, adjustable tow hitch), 57hp petrol (Ø 190mm, adjustable tow hitch), 45hp turbo diesel (Ø 190 mm, fixed or adjustable tow hitch), 65hp diesel (Ø 230 mm, adjustable tow hitch, turntable) ;
1 shredder with hammers and conveyor on road towable chassis and weight under 750kg (shredding Ø 160 mm) ;
1 shredder with hammers on road towable chassis and weight beyond 750kg, turbo diesel 45hp (shredding Ø 225 mm) ;
3 woodchippers on tracks: 35hp diesel (expandable width, Ø 160 mm), 45hp turbo diesel (expandable width and variable radiant, Ø 190 mm) ;
1 shredder with hammers on tracks: 45hp turbo diesel (fixed width, Ø 225 mm)
Since 2010, MGE facilities are gathered on one site in the north of Le Mans
As of 10 November 2010, MGE has gathered its facilities on a single site in Coulaines, next to the north access to the Le Mans ringroad and highways (A 11, A 28, A81). A set of renovated offices of 350 sq.m plus a 3,600 sq.m warehouse on a total area of 11,500 sq.m has enabled MGE to thrive on its three fields of activity: service to newly exporting businesses (consulting and sales management), turf laying and sports grounds development, and international trading. New recruits have swollen the staff and generate an even better service, for a perfect match with the MGE motto: Professional Quality.
In 2015, the MGE 36,000sq.ft warehouse is entirely refurbished.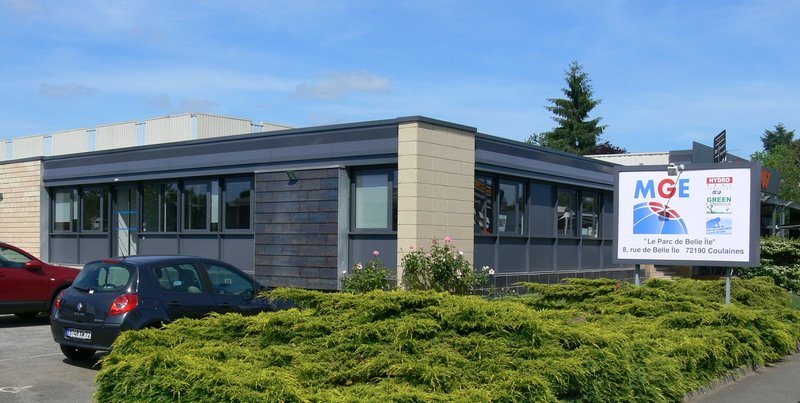 Addition of a 4th range: TRILO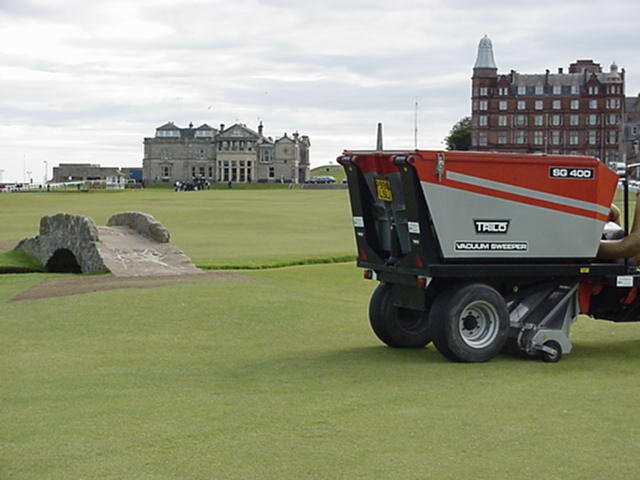 TRILO vacuum trailers are a unique offer on the market. With the TRILO blowers and leaves vacuums, the range is a complete turf maintenance equipment sideline for parks, golf courses, resorts, estates, racing circuits…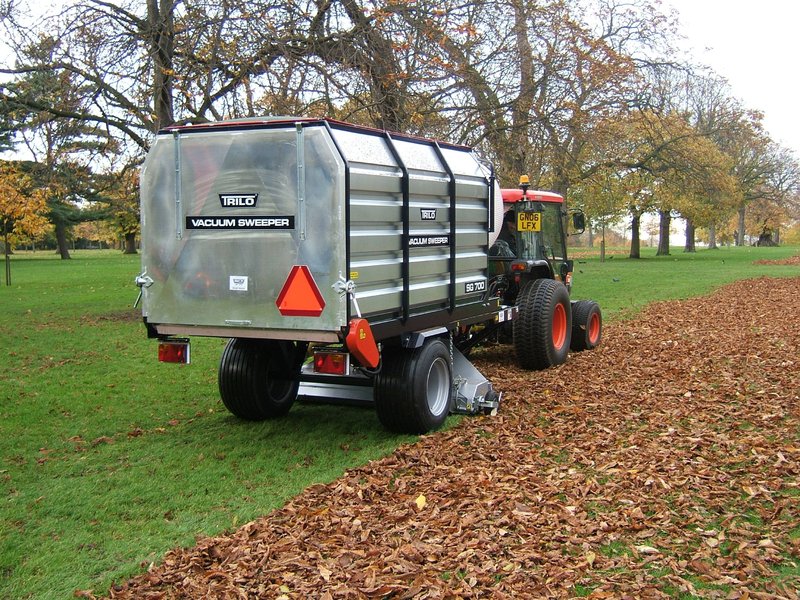 SPIDER remote controlled slope mowers
Contacts between MGE and SPIDER are made in 2012. The distribution of SPIDER remote controlled slope mowers for mowing works and high grass cutting, in extreme slopes until 60°, starts on early 2013.
This range includes 3 models: 56 cm, 80 cm and 123 cm cutting width. These machines are a response to the new market demand and trend where quality of cut needs to be as accurate as the high level of safety for both operators and the public
(click on the photo to enlarge it)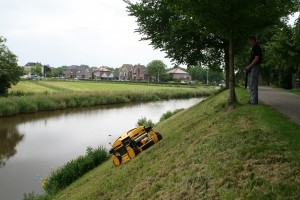 MGE provides a top class service to customers and dealers for this range, from demonstration to first starting and training (safety process, training of operators, technical and machine service training).
MGE GREEN SERVICE TODAY: 5 very high-quality products lines for green spaces!
TIMBERWOLF: the most performing woodchippers and shredders of the market
TRIMAX: exceptional quality of cut, high performance and low cost operating mowers
SPIDER: remote slope mowers for safe works on up to 60° slopes
GKB: sports grounds maintenance and renovation equipment
TRILO: blowers and leaves vacuums machines for green areas
Other 1st class innovations expected…
MGE: PROFESSIONAL QUALITY SINCE 1986